FAQs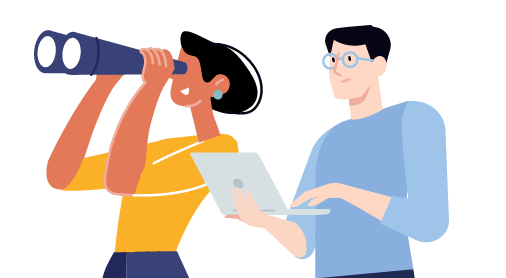 Browse Our Frequently Asked Questions
If you cannot find the answer you are looking for below, send us an email with your inquiry. We are happy to help!
Contact Us
What is Talify? How does it work?
Talify is a patent-pending platform that connects talented undergraduates to career, internship, and volunteer opportunities based on their individual skills, interests, and personality strengths.
Candidates build a unique profile detailing their experience and preferences, and then complete a world-class assessment of their individual job-specific strengths. This information is then made available to qualified organizations--among the most interesting global companies, startups, and non-profits. Talify enables these organizations to quickly identify potential matches and reach out to a pool of talented undergraduates across the country. By enlarging the scope of opportunities available to job-seekers and the diversity of exceptional candidates available to employers, Talify works to improve the process in a way never before possible.
Why was Talify built? Who is behind it?
Because finding a job shouldn't be one.
The job search as it exists today is backwards. Candidates spend hours with painstaking, needle-in-a-haystack searches as they look for the right opportunities to match their preferences. On the opposite end, employers spend millions of dollars trying to identify the perfect candidates. Large employers miss terrific candidates that are lost among thousands of job-seekers. Smaller employers and non-profit organizations have excellent opportunities available, but lack the resources to recruit on a larger scale. Candidates, as a result, are made aware of only a small subset of the opportunities available--leading to more than one in three college graduates leaving their first job after less than a year. Rooted in 50-plus years of research improving hiring and development decisions for more than 25,000 companies around the world, Talify provides candidates and employers alike with a better, smarter approach.
Talify was founded by a group of students and entrepreneurs who were frustrated by the job-matching process, and thought there must be a better way. For more background on our company or leaders,
click here
.
Who uses Talify?
Talify is currently available only to students at a select number of universities. Sign-up today to see if you qualify!
Talify works with a large group of employers, including some of the most interesting global companies, startups, and non-profits. Representative Talify employers include AT&T, Siemens, Warby Parker, Evercore Partners, Simon Property Group, Kiva.org, 10gen, City Year, and many more.
How do I sign up? How much does it cost?
Talify registration is FREE to job-seekers.
For individuals not currently enrolled at our open universities, Talify assessment feedback, career guidance and interview coaching is available at Talify ME.
Why is Talify better than other job sites?
Other job-search sites force you to scour countless job boards to find postings and positions that are right for you. With Talify, we do the legwork--putting your profile and strengths in front of some of the most interesting organizations and amazing opportunities. We allow you to spend your time focused on discovering what you want to do, and improving your chances of getting hired when the right opportunity presents itself. Our strengths feedback, career guidance, and interview coaching will help you find your passion, and ensure that you take the right steps to put your best foot forward. Even if you don't find your dream job through us, we'll provide you the tools to ensure that no matter where your opportunity comes from, you're prepared to go for it!
Why does the sign-up process require me to answer certain questions?
We have found that this unique set of questions allows us to create a full picture of your strengths, preferences, and skills--allowing employers to quickly and effectively identify you as their next top performer.
Who has access to the data that I enter?
Talify takes your privacy very seriously. Please see our Privacy Policy for a full explanation. Registered employers may access your data, but can only see the elements you allow them to.
How soon after registering should I expect initial contact from an employer?
Your name and information is entered into Talify immediately after you complete registration, and your data is included in employer searches moments later. That said, the time until you receive initial contact from an employer can vary depending upon the time of year, as well as the compatibility of your skills and interests with what employers are seeking.
Employers have already contacted me about jobs, what can Talify do for me?
Even if employers have contacted you about opportunities, our innovative assessment tools can provide further detail to help you better understand your strengths and career options, and how to put your best foot forward going into an interview. You might also find that Talify opens additional doors that you never knew existed. Even if you have a job opportunity, the right one might still be out there!
Can I retake my assessment after I complete it?
In order to ensure accurate results, you may retake your assessment after a 180 day period. This provides a reasonable interval to allow candidates to adjust as their personality changes over time. Additional information such as preferences and interests can be adjusted at any time.